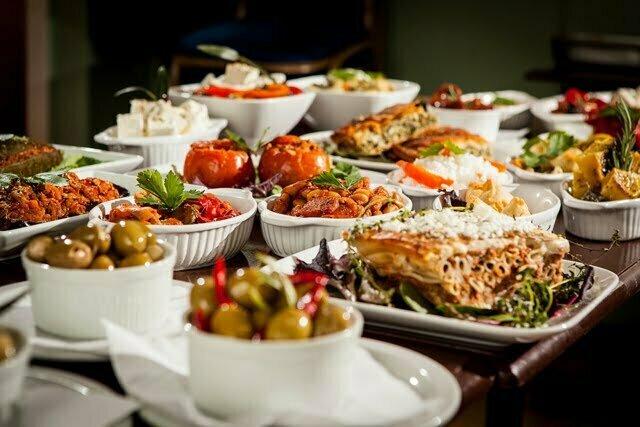 Head over to atasteofgreece.gr and book your food experience!
Greek Meze Experience
A Taste of Greece have created these Meze courses for the lovers of Greek food!
Guests can drink unlimited red, white and rose house wine.
Many of the vegetables are from their chef's organic garden.
WELCOME DRINK
Raki, Rakomelo, Inomelo
Each guest can choose from a selection of traditional Greek aperitifs: homemade Rakomelo (raki with honey infused with cinnamon and cloves), Inomelo (red wine with honey infused with cinnamon and cloves) or (the more famous) Raki.
LOCAL CHEESE PLATTER
We bring a selection of local Ios cheeses to accompany your aperitif and whet your appetite!
1ST MEZE
Dakos Salad with Local Xino Cheese
Locally made rusk with chopped tomatoes, olive oil, wild oregano and local Xino cheese.
Traditional Greek Dips
Selection of traditional homemade Greek dips: Tzatziki (yogurt with cucumber, garlic and olive oil), Taramosalata (fish roe dip), Tyrokafteri (spicy cheese dip), Melintzanosalata (smoked aubergine dip) served with pita bread.
2ND MEZE
Soutzouki
Grilled spicy semi-dried sausage, served with grilled tomatoes, onions and pita bread sprinkled with fresh local parsley.
Homemade Cheese Pies
Small cheese pies made with local cheeses and Gruyere.
Saganaki Cheese
The classic Greek Saganaki cheese, which will melt in your mouth!
Courgette Croquettes
Secret family recipe of courgette croquettes served with a traditional light dip.
3RD MEZE
Fava
Pureed fava with caramelised onions and sundried local capers
Mama's Ntolmadakia
Mother's recipe of stuffed vine leaves with rice, minced meat, herbs and avgolemono (egg and lemon) sauce.
Keftedakia
Freshly made spicy meatballs in red sauce infused with Xino cheese.
4TH MEZE
Grandma's Veal Bites
Secret family recipe of slow cooked veal bites in white wine sauce.
Slow Cooked Pork
Local baby pork slow cooked in the oven with Ios honey and handpicked wild thyme
TO FINISH WITH
Desserts and Coffee
Selection of freshly made desserts and coffee