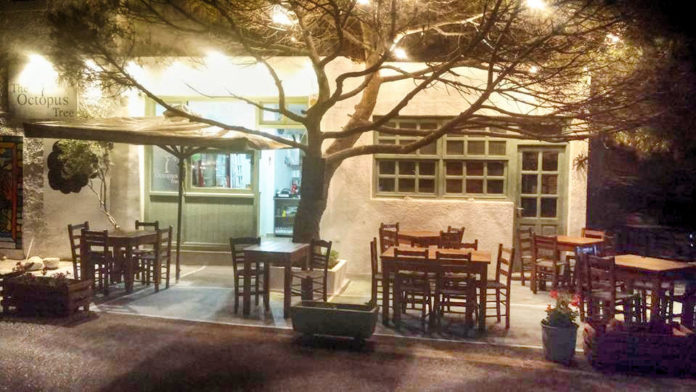 The Octopus Tree is a family run traditional Greek restaurant, located in the port of Ios around the marina.
Liz and her family will always make sure you have great service and enjoy your delicious meal.
The Octopus Tree opens early in the morning for coffee or other drinks, and later you can have lunch and dinner.  The salads are amazing and often they have fresh local greens which are marvellous with some olive oil and lemon. They often have fresh gavros, calamari and a lot of the traditional Greek and Cycladic croquettes like spinach and feta, tomato, and courgette. If you just want to relax you can enjoy your glass of wine with a little meze and watch the sunset.
It's a wonderful location to watch the local fishermen repair their nets after a busy day on the water, or watch the locally caught octopus drying in the pine tree.

The Dakos salad and the spinach and feta croquettes are our favourite.